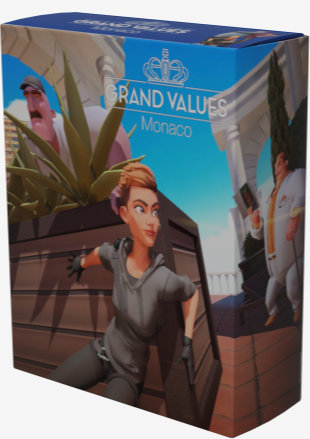 In Grand Values Monaco, the player assumes the role of Amy. She and her two friends need to gather millions of dollars to settle with a drug lord. To achieve this in a short amount of time, the trio travels to one of the richest countries in the world to pull off the riskiest but also most lucrative theft of all time.
The game focuses on stealth and trickery to outmaneuver guards and other opposing forces. It was planned as a story-driven game to be released in episodes. Imagine Ocean's Eleven and Mission Impossible, but without guns and with you as the main lead.
The core mechanics I worked on include:
New innovative pickpocketing system in which the player would have to actively execute the movement to steal the object of desire.
Enemy AI and event systems to create believable reactions of guards and animations in the environment.
Unity's new and old animation systems.
Unfortunately, the project was discontinued. Nevertheless, as it greatly displayed the team's capability, it got the members a foot forward in the game industry.
Sources:
Thank you Bearhands for allowing the usage of their images. You can find more information on their official website at https://bearhands.berlin/