Developer
Ring Zero Games Ltd.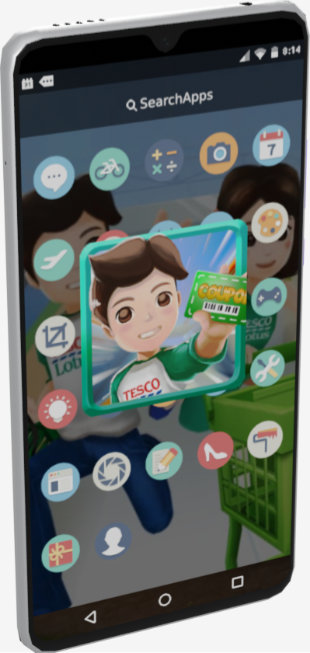 This is an endless runner game in which the player must avoid any incoming obstacles. The longer the player can avoid getting struck or hit, the higher his score.
Uniquely to Tesco Shopping Spree is the ability to integrate product placements into the game; hence, making it an efficient marketing platform for retail stores and brands. The environments are inspired by a shopping mall, but also serve as a natural advertisement space. By fulfilling daily, weekly, and monthly activities, the player can unlock coupons, which can be used in the physical store as discounts. The app also included ibeacons to give in-store visitors in-game items, for instance extra lives.
Tesco Shopping Spree was already a finished product when I joined RingZero. Due to its success, I was tasked with extending the capability of the existing application. We added:
New environments
A global weekly and monthly leaderboard
The functionality for Video advertisement (custom for the client to promote specific brands)
The ability to win money vouchers. Originally, the coupons were not personalized. With new the new system, every money voucher was uniquely attached to a specific user to maximize the security
Global weekly events to win money vouchers and other prizes
Performance improvements
I really like the concept of Tesco Shopping Spree, as it can cleverly and naturally integrate advertisements without being obtrusive or subliminal. I believe we will see more of this concept in the future.
Sources:
Thank you GameSpace for allowing the usage of their images. You can find more information on their official website at http://www.gamespaceinc.com/